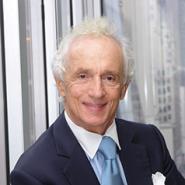 James Marlas
Senior Advisor (New York)
James Marlas is the Founder & Chairman of Union Capital Corporation. He founded the firm in 1968 and has been involved in every investment made by this private-equity investment firm.
In 1970, James Marlas became the controlling shareholder of Mickelberry Communications, Inc., a NYSE listed marketing services holding company. He became the CEO of the firm and served in this role until 1995. As CEO, he restructured Mickelberry, divesting all its existing businesses and redeploying its assets into commercial printing and other marketing services businesses and used the company as a vehicle to execute leveraged transactions. Mr. Marlas began his career as an Associate at the international law firm Baker & McKenzie.
Mr. Marlas served for many years as Vice Chairman of the New York City Opera, a Founding Member of the Young Presidents Organization – International Chapter, Member of the Chairman's Council of the Metropolitan Museum of Art, and Head of the New York Chapter of the Commanderie de Bordeaux.
Mr. Marlas received a JD from the University of Chicago where he was a member of the Law Review and an MA in Jurisprudence from Oxford University. Mr. Marlas also holds an AB in History, cum laude, from Harvard University.