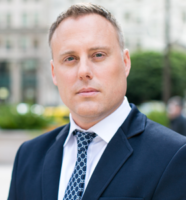 Karl Schade
Senior Advisor (Austin, TX)
Karl Schade has been structuring, analyzing and managing private equity investments for over two decades.  Prior to joining Star Mountain, Mr. Schade was the CEO of The Presidio Group, a San Francisco-based financial services firm with over $4 billion of assets under advisement.  As CEO, Mr. Schade worked with the team and Board of Presidio to grow assets, open a Washington D.C. office, and restructure the firm.  Subsequently, The Presidio Group's Registered Investment Advisor, Presidio Capital Advisors, was successfully merged with Tiedemann Wealth Management, based in New York City; and the investment banking and private equity divisions of The Presidio Group are now operating as separate standalone entities.
Today, and while serving as CEO of The Presidio Group, Mr. Schade also serves as Managing Partner of Presidio Investors, the private equity group he founded in 2007.  In this role, Mr. Schade has now spent a decade focused on lower-middle market private equity investing.  At Presidio Investors, Mr. Schade, and the lower-middle market-focused team he recruited, have invested in seven platform investments through over eighteen acquisitions.  During this time period, Mr. Schade also served as interim-CEO of one of Presidio Investors' most successful portfolio companies in the technology-enabled services industry.
Prior to founding Presidio Investors, Mr. Schade worked for a decade at several large private equity firms, including The Blackstone Group in New York City, Silver Lake Partners in Menlo Park, and Blum Capital Partners in San Francisco.   While at these Firms, Mr. Schade learned industry best practices and was a team-member on deals representing approximately $1 billion of invested equity capital.
Mr. Schade received his MBA from Harvard Business School, and his BA from Claremont McKenna College.  Mr. Schade has served on numerous Boards and Associations, and is a frequent speaker at industry events.