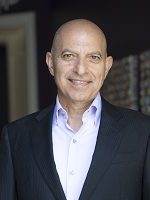 Mehrzad Emanuel
Environmental Services & Logistics Advisor (Los Angeles, CA)
Mehrzad Emanuel is an experienced operating executive who has built and sold businesses as well as analyzed, acquired and successfully integrated multiple acquisitions within the environmental and waste management industry.
Mr. Emanuel has expertise in creating profitable, differentiating, and sustainable growth for industrial businesses in the environmental, clean energy, air and water pollution control, water and waste water, and hazardous waste management fields. He is current Vice President and head of the Filtration division at BakerCorp, the global industry leader in temporary liquid and solid containment & treatment solutions to energy, environmental, construction and municipal markets, with over 70 locations in North America and Europe.
Mr. Emanuel led the start-up of Baker Filtration under Baker Tanks (then a Code Hennessy & Simmons Capital portfolio company) and helped navigate its acquisition in 2005 by a consortium of Lightyear Capital, Caisse de Depot et Placement du Quebec (CDPQ) and Goldman Sachs Mezzanine Partners.  Acquired by global private equity firm Permira ($30+ billion AUM) in 2011 and now known as BakerCorp, its filtration business has grown to be an industry leader, with several hundred employees, over 30 locations in North America and Europe, the largest fleet of mobile air and water treatment systems, and 10 patented technologies.
Prior to joining what is now BakerCorp in 2004, Mr. Emanuel led the development of the environmental services and products division for Barnebey & Sutcliffe Corporation, from a start-up to a national product line with 7 locations and over 100 employees.
In addition to his work at Barnebey & Sutcliffe Corporation, Mr. Emanuel was the Founder & President of Cameron Environmental Inc. (CEI) and guided its rapid growth, which led to its acquisition by Baker Tanks in 2004. With an industry first bundled solution model, CEI was profitable from its inception, grew over 20% per year though two recessionary periods, and developed a national presence with multiple offices.
Mr. Emanuel serves on the advisory board of TYLT Venture, an early stage venture capital firm, and has served on the executive advisory committee of Ener-Core Inc., a manufacturer of innovative systems for producing continuous energy from a broad range of sources.
Mr. Emanuel has a BS in Chemical Engineering from Penn State University.
In his role as an aligned Industry Advisor to Star Mountain, Mr. Emanuel provides industry and general operating knowledge and insights to help Star Mountain and its portfolio investments maximize value.