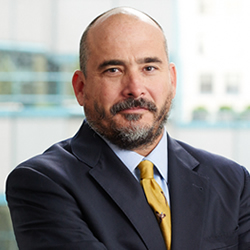 John Robertshaw
Senior Advisor (New York)
John Robertshaw has over twenty-five years of alternative investment experience through various senior roles including at Credit Suisse, DLJ and Salomon Brothers. Mr. Robertshaw is currently a Co-Founder and Chairman of the Board of iCapital Network.
Until 2016, Mr. Robertshaw served as a Vice Chairman of Credit Suisse Securities (USA) LLC. He served as Co-Head of the Private Fund Group at Credit Suisse from 2004 through 2013, during which time the Private Fund Group represented more than 170 funds raising in excess of $250 billion. Mr. Robertshaw also served as a member of the Asset Management Operating Committee as well as the Alternative Investments Operating Committee at Credit Suisse.
Mr. Robertshaw has strong long-term relationships with the Star Mountain team including previously reporting to Chairman Brian Finn who held various roles including Co-President and Head of Asset Management at Credit Suisse.
Mr. Robertshaw joined Credit Suisse in November 2000, when the bank merged with Donaldson, Lufkin & Jenrette (DLJ), where he was a Managing Director in the Private Fund Group. Mr. Robertshaw joined DLJ in September 1995 from Salomon Brothers, where he was in charge of Private Equity Placements.
Mr. Robertshaw holds a BA from Yale University and in 2007 he was voted "One of the Most Influential People in Private Equity" by Private Equity International.
As an aligned Senior Advisor, Mr. Robertshaw assists Star Mountain Capital with strategic advice and thought leadership to help the firm and its portfolio investments maximize value.