Star Mountain's proprietary Collaborative Ecosystem® differentiates its platform.  Star Mountain participates in the lower middle-market through its two complimentary investment strategies of:
Making direct credit and equity investments in mainly U.S. lower middle-market businesses that generally have revenue at least $15mm and EBITDA of generally under $50 mm
Making secondary investments (acquiring LP interests and direct assets)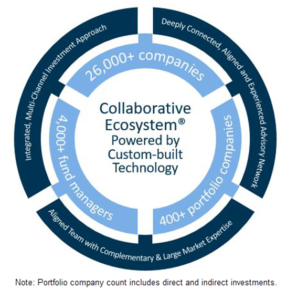 Star Mountain believes that this approach provides it with competitive advantages in knowledge and relationships to assist with sourcing, underwriting and managing investments.
Star Mountain also benefits from:
A national origination platform with local investment professional presence in 20+ U.S. cities to directly source deals
Specialized industry expertise across most verticals
Network of over 40 strategically aligned Senior Advisors and Operating Partners who provide expertise with regard to specific investments/industries and with regard to best practices in operations, technology, human capital management, and other topics
Ongoing operational support and relationships to assist business owners with strategic initiatives, capital raising, risk management and other major business decisions
Please click here to contact us and to learn more about Star Mountain.