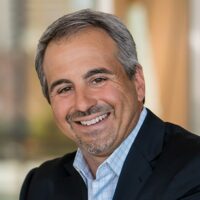 Chris Calabrese
Operating Partner (Philadelphia, PA)
Chris Calabrese is an active Operating Partner assisting with portfolio management at Star Mountain Capital.
Prior to Star Mountain in 2005, Mr. Calabrese co-founded, as a named partner, LBC Credit Partners, a private credit investment firm which grew to approximately $3.5 billion in assets under management prior to being acquired by CIFC Asset Management LLC in December 2021.
At LBC, Mr. Calabrese served as a Senior Partner facilitating a team which invested over $5.5 billion in more than 200 lower middle market companies through 2019.  During that time, Mr. Calabrese was an investment committee member and had oversight of the credit, portfolio management and capital markets efforts including a team that directly managed all active portfolio accounts where he was also involved in complex restructurings and divestitures.  He also served on the corporate board of directors of certain portfolio companies.  Mr. Calabrese is currently a partner and principal at LBC Small Cap SBIC Fund.
Prior to LBC Credit Partners, Mr. Calabrese was a Managing Director at Wachovia (now part of Wells Fargo Corporation) where he was Head of Business Development and Underwriting as well as Member of Senior Credit Committee for the bank's commercial finance subsidiary Congress Financial.
Earlier in his career, Mr. Calabrese was a Senior Vice President at First Union Bank (now part of Wells Fargo) where he led a team of commercial loan originators, underwriters and portfolio managers for leveraged loan products including asset-based lending. Prior to First Union Bank he was a Vice President at predecessors CoreStates Bank and Meridian Bank. Mr. Calabrese obtained formal credit training in banking and corporate finance at Mellon Bank where he started his career in 1986.
Mr. Calabrese holds a Master of Business Administration from Drexel University and a Bachelor of Science in Management with a minor in Accounting (magna cum laude) from Widener University.
As an aligned Operating Partner, Mr. Calabrese assists Star Mountain Capital with developing and implementing best practices across a wide range of activities to help maximize and protect value for all stakeholders.