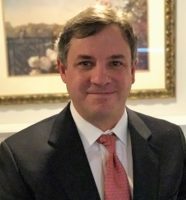 Stephen J. Dondero
Senior Advisor (New York, NY)
Stephen Dondero is an investment professional with over 20 years of experience in private equity, capital markets and early-stage investing. Mr. Dondero was previously a Partner and Investment Advisory Committee member at Aegis Capital Group LLC. He has been a private venture capital investor and executed numerous direct venture investments across industries including technology, media and entertainment, software and healthcare. In addition to his investment experience, Mr. Dondero has advised companies on capital markets trends and opportunities as well as merger and acquisition activities. He has given presentations at industry events and published reports on a wide array of sectors and companies.
Mr. Dondero has raised over $10 billion for companies in the high yield market, over $500 million in the private placement market and negotiated and closed over $5 billion in the bank market. Most recently, Mr. Dondero was the capital markets expert for Bank of Montreal (BMO) Capital Markets' leveraged finance group providing corporate clients with capital raising and structuring advice. Formerly, Mr. Dondero was the Head of high yield and distressed research at BMO (a Canadian-based bank with nearly $400 billion in assets).
Prior to BMO, Mr. Dondero was with the distressed and high yield research departments at PaineWebber and Schroder Wertheim. He also worked in Barclay's private placement group and Chase Bank's middle market corporate finance group.
Mr. Dondero holds an MBA in finance and international business from Fordham University and a Bachelor of Engineering degree in Electrical Engineering from Stevens Institute of Technology. In addition to a Series 7 and 63, he is also registered with the FINRA as a Supervisory Analyst and is a member of the Turnaround Management Association.