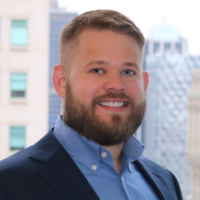 Austin Ericson
Legal Counsel & Chief Compliance Officer
Mr. Ericson is an experienced legal counsel and compliance executive with extensive experience in asset management including private credit, BDC and private equity investment funds and strategies.
Mr. Ericson was most recently Assistant General Counsel at H.I.G. Capital, LLC, a $50+ billion global alternative investment firm, where he served as the primary internal counsel focused on fund formation, regulatory management, and compliance across a variety of private capital investment strategies including private credit and private equity. During his tenure with H.I.G., they grew assets under management by approximately 150% from ~$20 billion to over $50 billion. Products he helped structure and administer included private credit funds, private equity funds, rated note investment structures for insurance companies, separate managed accounts, a publicly traded business development company (BDC) and both static and active collateralized loan obligation vehicles (CLOs). His responsibilities included implementing, creating and monitoring compliance processes throughout all functions of the firm including fundraising, general corporate matters, marketing review, regulatory filings, and administering H.I.G.'s compliance program. His legal and compliance responsibilities also included negotiating investor side letters and reviewing all marketing materials.
At H.I.G. he also assisted with U.S. regulatory and public company filings (Form ADV, Form PF, S-1, 8-K, 10-Q/K, 13G/A, etc.) and advised investment professionals and portfolio companies on a variety of corporate, sanctions, data privacy, employment, litigation, finance, contractual, and ESG matters. He also worked actively with the private investment teams on various legal matters including diligencing, acquiring and managing investments.
Prior to H.I.G., Mr. Ericson was an Associate Attorney in the Corporate and Transactional Department of McDermott Will & Emery LLP a 1,400+ lawyer global corporate law firm working with leading alternative investment and corporate clients, including H.I.G. where he would later join. He drafted and negotiated all ancillary merger & acquisition  documents including employment agreements, seller notes, stock option plans, escrow agreements, restricted activities agreements, and reviewed and revised all core transaction documentation, working with specialists, attorneys, and paralegals. Mr. Ericson led legal diligence processes on over 25 closed mergers and acquisitions (including new platform investments, tuck-ins and add-ons).
Mr. Ericson is a graduate of the University of South Florida with a Bachelor of Arts in Political Science. He received his Juris Doctor degree from the University of Florida Levin College of Law where he graduated Cum Laude and in the top 5% of his graduating class. At the University of Florida Levin College of Law, Mr. Ericson served as Managing Editor of the Florida Law Review and the Chief of Communications for the Association of Law and Business. He was also elected to the Order of the Coif, an honorary scholastic society encouraging excellence in legal education recognizing law students who attained a high grade of scholarship.
Mr. Ericson is also an Adjunct Professor at University of Miami School of Law where he teaches a course on Drafting and Negotiating Private Equity Related Agreements.