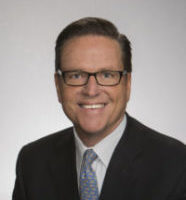 Chris Goodwin
Managing Director
Chris Goodwin is a respected investment and operations executive with 30+ years of complementary experience as a leveraged finance banker, private equity investor and C-level operating executive.  Over the course of his career, Mr. Goodwin has originated, underwritten and managed over $6 billion of complex debt and equity investments across a broad spectrum of industries including manufacturing, business services, consumer services, energy, retail, transportation and financial services.
For 15 years, Mr. Goodwin was successively promoted through a number of roles with BNP Paribas, S.A., culminating as Co-Head of the National Merchant Banking business.  He coordinated multiple complex projects, including strategic acquisitions, recapitalizations and growth financing, led sourcing and underwriting for approximately $5 billion in capital commitments with the majority of his investments as the Lead Agent.  In addition, Mr. Goodwin served as a Principal in charge of new deal origination, underwriting and ongoing portfolio management for Southeast, Southwest, and Western U.S. markets.
Capitalizing on the 2008 financial crisis, Mr. Goodwin served as Director, Financial Services and Corporate Platforms for Hudson Advisors, the captive asset management firm for Lone Star Funds (a global investment firm with approximately $25 billion in assets under management). In this role, Mr. Goodwin identified corporate loans as a new investment asset class and completed the acquisition of a $755 million corporate loan portfolio which delivered exceptional value to investors.
Recently, Mr. Goodwin combined his private investment acumen with operational skills serving as a President, COO and CFO of several established small and medium-sized U.S. private businesses (lower middle-market companies) where he completed numerous strategic initiatives including acquisitions.
Mr. Goodwin was also Vice President at The Fuji Bank, Ltd., where he was responsible for originating and executing leveraged finance opportunities with private equity investors in the Southwest.   He began his banking career with Mbank, N.A. (now part of JP Morgan).
He earned a BBA in Finance from The University of Texas at Austin and was previously Series 7, 63 and 24 licensed.