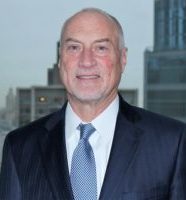 Christopher J. Birosak
Managing Director & Chairman of Investment Committee
Christopher Birosak has over 30 years of Leveraged Finance, Private Equity, and Investment Banking experience. His distinguished career includes former Co-Head of BAML Capital Partners (the internal private equity group of Bank of America / Merrill Lynch) where he oversaw approximately $6 billion of private equity investments and former Managing Director of Merrill Lynch Leveraged Finance where he led the underwriting of over $15 billion in M&A and leveraged buyout financings and co-founded Merrill's Loan Syndication Group.
As a member of the Investment Committee at BAML Capital Partners, Mr. Birosak served on multiple boards of portfolio companies and also served as an advisor to the group on leveraged financings for portfolio investments. Across his career, Mr. Birosak has worked with businesses ranging from early-stage development, middle market, and Fortune 500 companies completing over 150 transactions.
Mr. Birosak began his career as a credit analyst at Chemical Bank (now part of JP Morgan Chase) and over the course of 14 years rose to  Managing Director and a founding member of the bank's Syndicated Loan Group, a pioneer in the development of the institutional secondary loan market.
As part of his private equity responsibilities, Mr. Birosak previously served on a number of boards of directors including: (i) HCA, Inc. (NYSE: HCA), where he was Chair of the Audit Committee prior to the company's IPO, (ii) NPC International, where he was the Chair of the Compensation Committee, and (iii) Euromedic International Group, where he was the Chair of the Executive Committee.
In addition to his corporate board experience, Mr. Birosak has extensive experience in the non-profit sector and currently serves on the Board of Trustees of Catholic Charities of New York; of Indego Africa, an NGO supporting women artisans in Rwanda and Ghana; and the Student/Partner Alliance, a mentoring organization enabling inner-city students to attend private high schools.
Mr. Birosak holds a BA in Economics from Wayne State University and an MBA in Finance from the University of Detroit.