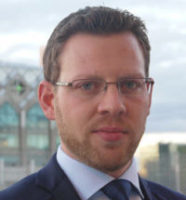 Christopher J. Gimbert
Chief Financial Officer
Christopher Gimbert has over 20 years of private equity / credit investment and operating experience. Mr. Gimbert is the CFO of Star Mountain Capital, a specialized asset management firm focused exclusively on the lower middle-market. Mr. Gimbert was previously Chief Operating Officer.
Prior to helping launch Star Mountain, Mr. Gimbert was the Founder & CEO of an interim CFO advisory business serving small businesses. Previous roles also included: (i) Merrill Lynch Alternative Investments, analyzing alternative investment asset managers and (ii) M&A operating and integration experience from KPMG M&A Advisory, including private equity acquisition integration of companies.
Mr. Gimbert holds an MBA from the NYU Stern School of Business, where he was an InSITE Fellow (Entrepreneur / Venture Fellowship advising small businesses) and Founder of the NYU Venture Community. He also holds a BSBA in Business Administration from Washington University in St. Louis, where he won the annual business plan competition for a business he co-founded as a student.