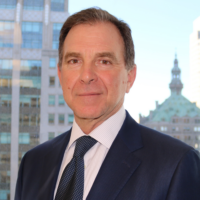 George Mattson
Vice-Chairman
George Mattson brings a diverse and deep set of strategic, financial, operational, governance, investor relations, business building and investing skills built over his 35-year career, along with his broad and deep network of institutional and personal relationships.
After spending six years at IBM (NYSE: IBM), he spent nearly 20 years in investment banking, including 10 years as a Partner at Goldman Sachs & Co. (NYSE: GS) where he formed and Co-Headed the Global Industrials Group.  A global business with approximately $1 billion in revenues and 150 employees, the Industrials Group was responsible for relationships and transactions in the Automotive, Aerospace & Defense, Building Products, Business Services, Diversified Industrial, Paper & Packaging and Transportation & Infrastructure sectors. Mr. Mattson worked closely with Goldman Sachs' merchant bank and other principal investment businesses on equity investment and debt lending opportunities within the broad range of businesses and sectors he covered. In addition, Mr. Mattson served on Goldman Sachs' Investment Banking Division Operating Committee, the Investment Banking Division Client and Business Standards Committee, and the Global Recruiting Council.
He has served as a strategic advisor to dozens of CEOs and boards, and helped a broad range of large and small public and private companies complete strategic mergers, acquisitions, divestitures, joint ventures, restructurings, private and public market debt and equity capital markets transactions, and other strategic and financial transactions.
Mr. Mattson retired as a partner from Goldman Sachs in 2012 to pursue his passion for private investing and building companies, as an investor and a corporate director.  Mr. Mattson has made several control equity investments in lower middle-market private industrial companies, partnering with founders and management teams to provide strategic growth capital and help realize their business objectives. In addition, in 2020 and 2021, he successfully raised two special purpose acquisition companies, completing merger transactions for both companies, and subsequently working closely with the management teams of these newly public companies.
Mr. Mattson also brings over 30 years of cumulative experience as a director of large public companies as well as small and medium-sized private companies. Mr. Mattson has served in multiple roles on boards including as chairman, lead independent director and chairing audit, finance, compensation, and governance committees. He is currently serving on or has served on the boards of Delta Air Lines and Air France KLM Group.
Mr. Mattson has also been active supporting communities and organizations philanthropically, having served or currently serving on non-profit boards including as Chairman of Volunteers of America – Greater New York, member of the Board of Trustees of the Boys' Club of New York, Chairman of the Board of Visitors of the Duke University School of Engineering, and as a member of the Board of Trustees of the Saint Andrew's School.
Mr. Mattson holds a Bachelor of Science degree in electrical engineering from Duke University and a Master of Business Administration from the Wharton School at the University of Pennsylvania.
* Mr. Mattson is a shareholder in the management company, a personal investor, and has a share in carried interest of certain funds. He is a non full-time team member of Star Mountain.