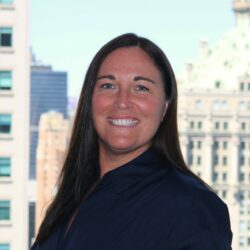 Leanne Schmitt
Managing Director - Client Services
Mrs. Schmitt is an investor relations, portfolio management and financial systems investment professional with over 20 years of experience in the industry.
Mrs. Schmitt was most recently a Managing Director at Intech Investment Management, a global quantitative equity firm with $22 billion in assets under management (AUM) which spun out from the Janus Henderson Group in 2022. She has advised some of the world's largest and most sophisticated institutions and private clients on their investments across asset classes including quantitative public equities and alternatives.
She began at Intech in June 2003 as a Senior Quantitative Portfolio Analyst / Trader focusing on portfolio management. As her career progressed, since 2010 she began focusing on institutional and intermediary investor relationships as well as thought leadership and content development by creating client facing investment messaging focusing on setting strategy expectations and explaining the potential investment outcomes. She presented a sophisticated mathematical investment philosophy, process, investment portfolio and performance results to institutional plan sponsor staff, investment boards, consultants, manager research analysts, RIAs and wealth management advisors across North America. She was also a member and coordinator of the Women of Intech committee which coordinates philanthropic efforts for female employees at Intech.
Prior to Intech, Mrs. Schmitt was in Global Prime Brokerage Technology at Salomon Smith Barney where she worked in web development as well as new client development of extracts, reports and account configuration for the Prime Brokerage Internet and Intranet working closely with traders on the desk. Following 9/11, she was appointed Head of the Disaster Recovery team for the Prime Brokerage Support Team implementing user tests and monitoring Disaster Recovery website.
With a computer science degree, Mrs. Schmitt began her career as a Teacher's Assistant in the Fordham University Computer Science Department for undergraduate courses prior to joining Salomon Smith Barney in NYC in 2001.
Mrs. Schmitt is a graduate of Fordham University with a Bachelor of Science in Computer Science and where she played Division I Women's Soccer as well as Women's Rugby.
She obtained her Master of Business Administration from Keller Graduate School of Business with a concentration in International Business with Entrepreneurial Focus and is FINRA Series 63 and 7 licensed.
In 2021, Mrs. Schmitt received the Diversity, Equity & Inclusion in the Workplace Certificate from the University of South Florida.