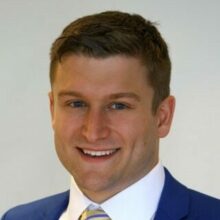 Michael Goldstein
Director
Michael Goldstein is a Director focused on portfolio management, investments, risk management, valuations and reporting.  Mr. Goldstein has 10+ years of experience in strategic portfolio management, risk management and valuations from leading alternative investment managers including Blackstone and KKR.
Mr. Goldstein was most recently a Director at Blackstone within their $30+ billion Tactical Opportunities investment business. His responsibilities included investment analysis, due diligence, valuations and investment structuring. He was also responsible for supporting investor relations and client reporting.
Prior to Blackstone, he was a Senior Associate at KKR within the Finance, Valuations & Client Partner Group.
Mr. Goldstein began his finance career as an Associate at JPMorgan Chase within the investment bank rotational program and spent more than 3 years in the Risk Analytics department.
Mr. Goldstein graduated from SUNY Binghamton with a degree in Economics. He received an MBA from American University and a Master's in Accounting from the University of North Carolina at Chapel Hill. He also holds a Series 99 from FINRA.