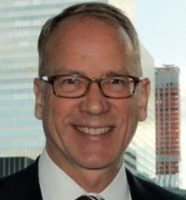 Todd Benson
Non-Executive Investment Committee Member
Todd Benson has 30+ years of experience in investment banking, private equity and private credit investing and making primary and secondary fund commitments, principally at global commercial and investment banking firm Citi and its predecessor firms.
Mr. Benson is currently the Managing Partner & CEO of Herington LLC through which he serves as an investor and member of the boards of directors of several U.S. private businesses. Prior to the formation of Herington in 2011, Mr. Benson was Managing Partner and Global Co-Head of Citi Private Equity (CPE), which he co-founded in 2000 and grew to a globally diversified asset management platform with assets under management (AUM) of $11 billion. Working collaboratively with leading private equity firms around the globe, large and small, as a co-investor, co-sponsor, mezzanine lender and limited partner, CPE generated returns well in excess of industry benchmarks across its investment programs. Under Mr. Benson's leadership, CPE was a fully integrated, 37-member organization with investment management, marketing/fund formation, investor relations, back office and reporting capabilities and offices in New York and London.
In addition to his portfolio and business management responsibilities, Mr. Benson originated, executed and managed many of CPE's direct equity, mezzanine debt and fund investments and participated as a board member in the strategic direction and growth of some of CPE's most successful portfolio companies. Portfolio companies where he held board seats included Advanstar Communications, Educate Inc., Excel Mining Systems, International Fiber Corporation, Preferred Meal Holdings, Laureate Education and Wall Street Institute.
Prior to CPE, Mr. Benson was a Managing Director in Salomon Smith Barney's Investment Banking Division where he executed numerous strategic and financing transactions on behalf of companies in the media and communications industry as well as for portfolio companies of leading sector-focused private equity firms. His responsibilities included participation on the Division-wide year-end compensation committee and heading of the Division's training committee.
Mr. Benson holds an M.B.A. from Harvard Business School where he was elected a George F. Baker Scholar and graduated with High Distinction and presently serves as a member of the nominating committee of the board of directors of the HBS Club of New York. A native of Kansas City, he graduated from the University of Kansas with a degree in Accounting and Business Administration and remains a loyal fan of the Jayhawks, Chiefs and Royals.