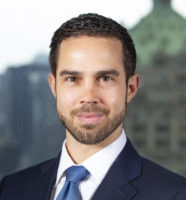 Brett A. Hickey
Chief Executive Officer
Brett Hickey has been structuring, analyzing and managing private equity, mezzanine and U.S. Government sponsored investment funds for over a decade. Prior to launching Star Mountain Capital, Mr. Hickey was the Co-Founder and President of a multi-manager platform including 4 U.S. state sponsored small business investment funds. Mr. Hickey has extensive experience performing due diligence on, selecting and building small business fund managers and has helped structure over a dozen larger funds representing a few billion dollars in assets.
Mr. Hickey formerly worked as an Investment Banker at Citigroup Global Markets in New York City (fka Salomon Smith Barney) where he covered global Asset Managers and Financial Institutions. In that role he worked on over $8 billion in completed debt and equity capital raising and restructuring transactions for leading financial institutions including BlackRock, Franklin Templeton, Neuberger-Berman, Nuveen Investments and Eaton Vance. He also served as Senior Analyst on the $16.1 billion public merger of the St. Paul Companies, Inc. and Travelers Property Casualty Corp.
Mr. Hickey attended Mount Royal College in Calgary, Canada, where he studied business and entrepreneurship while training on the national speed skating team. He graduated with Distinction from McGill University in Montreal, Canada with a Bachelor of Commerce degree. He is an alumnus of Harvard Business School's Owner, President / Manager CEO training and management program for distinguished business owners with a proven track record of successfully building and managing companies. Mr. Hickey is a former Canadian national gold medalist and North American medalist in speed skating. He has completed numerous other business programs including Building Your Business Through Transformational Leadership & Innovation at the Innovatrium on the University of Michigan's campus in Ann Arbor, Michigan and is a frequent guest lecturer on industry panels and at academic institutions. A selection of interviews can be found on The Lead Left.
Boards & Associations:
Former Board of Governors for the Small Business Investor Alliance (SBIA).
Board Member of Greenwich YMCA.
Former Chairman of Networks for the New York City Chapter and Greenwich Chapter of the Young Presidents' Organization (YPO).
Board of the Quebec City Conference (one of the largest global sustainable investing private equity and venture capital conferences).
Tri-State Co-Chair of McGill University's Capital Campaign (largest in Canadian history).
Former Member and Director of Sponsorships for the Entrepreneurs' Organization (EO) of New York.
Founder and President of Availor Philanthropy Corp., a 501(c)3 focused on improving lives through Economic Development, including Job Creation and Health & Wellness (including Cancer Research), which was re-branded in in 2016 as Star Mountain Charitable Foundation.
Former Board of the Canadian Association of New York where he was the 2008 Chairman of its largest event, the Maple Leaf Ball.
Philanthropic Awards:
Articles and Interviews:
3rd Party Business Site Profiles:
Social Media: